Local Restaurant Partners
Its Just Lunch local restaurant partners and locations. Contact us to schedule a date at one of these great locations.

Arcodoro
713-621-6888
This beautifully turned out Galleria area restaurant reflects owner Efisio Farris' Sardinian heritage and the glamour and sophistication of the Costa Smeralda. The menu shines with inventive dishes that range from homemade pastas, pizza made in the wood-burning oven, baked whole fish, award winning steaks and hearty Sardinian fare – a simple, rustic, cuisine rich in flavor and texture. Notably, USA Today named Arcodoro as one of the hottest restaurants to watch in their Special Millennium Edition.

Backstreet Cafe
713-521-2239
In 1983, Tracy Vaught decided to explore the restaurant field in Houston. "I was ready for a more people oriented profession," says Vaught and considered a number of options ranging from an antique shop to an icehouse. She then decided to tell her uncle, Jack Blalock, of her plans on a restaurant venture. Together the uncle-niece duo found a "For Lease" sign on a two-story traditional house on a dead-end street located at the bend in South Shepherd Drive in Houston's River Oaks area. They liked the idea of a "backstreet getaway." The first menu was very simple with a selection of soups and sandwiches. They made equipment purchases piece by piece and expanded the menu as they expanded the kitchen.Jack and Tracey wanted the Backstreet Cafe to have the same ambiance as the sidewalk cafés in Europe giving their dining guests the opportunity to be removed momentarily from Houston's fast pace.

Benjy's
713-522-7602
Benjy's, although located across the street from a health club, is not a health-food restaurant. But this attractive Rice Village bistro sure makes eating healthy a pleasure.

Canyon Cafe
713-629-5565
Canyon Cafe restaurants bring alive the range of cooking styles and flavors indigenous to the Southwest. Our recipes combine traditional Spanish, Native American and Mexican ingredients. Canyon Cafe awakens your senses to the fusion of rich Southwestern history and culture with its vast expanses, rugged textures, earthy hues and spiritual significance. Surprise your taste buds and mellow your soul with our unique experience of Southwestern culture and cuisine.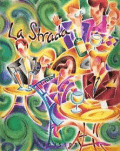 La Strada
713-850-9999
La Strada is well known for its hearty, flavorful menu of creative Italian dishes and luscious homemade desserts. Dinner is served seven days a week at both locations.

Post Oak Grill
713-993-9966
Since 1989 the Post Oak Grill Restaurant has been a synonym for the highest quality of food and service. With Chef Polo Becerra's imaginative creativity and dedication to excellence bring the subtly delicious flavors to our menu which have maintained the Post Oak Grill as a distinctive destination for the perfect dinning experience.Our New York Strip Steak, The Rosemary Roasted Chicken and the Grilled Gulf Red Snapper are just three of the many dishes which keep us in the forefront of haute cuisine in Houston, serving a select clientele with discerning tastes. Join us for a wonderful culinary adventure which you will want to repeat again and again!Our specialties vary from lunch to dinner and we offer full service banquets, home and office catering, private dining rooms and orders "to go". You'll find a Post Oak Grill Restaurant in three conveniently Houston locations.

Sambuca
713-224-5299
Described as the supper club of the nineties, Sambuca Jazz Café creates the perfect blend of great nightly jazz, critically acclaimed cuisine and superb service, making it one of the top new restaurant concepts in the country. From the beautifully designed bar areas to the dramatic bandstands, Sambuca offers a unique dining experience like no other.